This is how my web page looked just after the September 11 2001 attacks. The links have been updated but the appearance is the same as it was back then.
Text version
Free software

My Music

Linux

Fight spam
My Picture
My Friends
Santa Cruz
Condolences
I am shocked and amazed at the horrible events that happened on September 11th. I would like to express my heartfelt condolences for the victim of the evil terrorist acts. I fully support the government of the US in doing what it takes to make sure that this kind of abomination never happens again, and pray for all the victims.
My Picture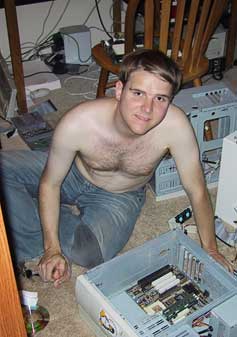 Picture taken July 11, 2001
Some stats:
Favorite Musician: Jonn Serrie
Favorite Arthur: Orson Scott Card My Orson Scott Card page
Favorite Book: Wyrms, by Orson Scott Card (Amazon review page)
Favorite Quotation: "Reality is the most perfect vision of God's will", from Wyrms (page 290)
Favorite Drinks: EdenBlend soy + rice milk, Ceres fruit juice
Favorite Song: Currently, Katcha, Touched by God. When I really like a song, I will listen to it over and over again until I am sick of it.
Belief system: I believe in a personal God. Religious fundamentalism is a big turnoff to me.
Things I don't eat or drink: Anything with caffeine, alcohol, or meat in it.
Other things I don't do: I don't smoke, nor partake in any recreational drugs.
Last updated: Fri Sep 14 15:09:13 2001